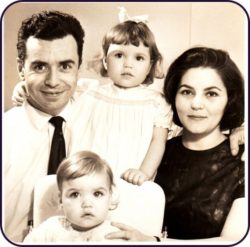 Sev's History
I am born June 30, 1963. The parents I choose live on the European side of Istanbul, Turkey. When I am one year old, we leave our very comfortable life and all our family and friends for the adventure of a life time – coming to America. Montreal, Canada is our first stop, where my sister is born. After a couple of years, we come to the U.S. and we settle in the DC suburbs. I grow up in the Maryland/Virginia/DC area.
I start first grade not knowing English. Christmas comes and we are to make a manger with a baby Jesus in it. "What is Jesus?" I ask, sitting at a table with construction paper and glue. "He is the son of God," my classmates reply.  
"What is God?" I ask my fellow first-graders. The children recite their stories of Jesus. They explain who God is, why we are crafting a manger, and why Christmas is fun.  All I understand is, due to a special baby boy, we get presents delivered by a big man named Santa who flies with animals and there is a tree in the house. Since it doesn't make sense to me, I never believe in Santa Claus. However, through Santa, my first-grade classmates introduce me to religion which sparks a life-long interest about all religions and the meaning of life.
Even though I am from an Islamic country, my parents are not Muslim and my sister and I are not raised as Muslims. As we get older, and start asking questions about religion, my parents encourage us to investigate and choose any religion we want to belong. If we do not want to belong to a religion, that is okay, too. Our home is filled with books about different religions and we speak freely and openly about all of them. My parents never express biases for or against any religion nor any race of people.
As a family, we learn how to be American. Our American friends lovingly teach us the customs, foods, and beliefs. I help my parents learn English and see their struggle. I become protective of them and, at a very young age, become the spokesperson for my family because I speak English the best.
I grow up having fun. My mother's sister lives nearby and some of my best memories include my cousins, backyard barbecues, swimming all day until our fingers shrivel, riding bikes, many pets, roller skating, beach vacations, and lots of Turkish food.
I learn that I know things about people I cannot normally know. I keep this to myself, even though both of my parents have extra-sensory abilities. I choose to keep it from most of my friends and just try to deal with it. 
I graduate from Loyola College (now Loyola University) in Baltimore with a Biology (pre-med) degree.
And then the struggle begins – my own internal struggle of what I really want to do and who I really am. An internship at a hospital makes me realize that medical school is not for me. I play the game and decide to have jobs that do not suit me. I give in to accepted modes of behavior and squelch my true desire of expanding my para-normal abilities. I change jobs a lot. I create a wholesale/retail business designing and handcrafting jewelry with sales reps around the country. That keeps me busy for many years. However, I am not fulfilled.
I marry. Twice. I do not have children. My nephews provide me with some of the joy that children bring. I become a U.S. citizen in 1995.
I move to the Inner Banks of North Carolina with 2 cats named Zulu and Comet. Before moving to the water, we live on Capitol Hill in Washington, DC for a couple of years. Prior to that, I live in the Baltimore area, including Baltimore City, for about 20 years.
I have chosen two very interesting people to be born to. I admire my parents deeply for their courage in coming to America. They do not have to leave Istanbul due to strife, oppression, or religious persecution. They have physical luxuries and all the love they need there. Still, they leave it all behind because America is the place for us to be. I am grateful for the hardships my parents go through.  America can be tough place for a foreigner with an accent. After an adventurous life, my father leaves his Earthly body on September 6, 2016 and he still visits me.
This brings us to the present moment.
My life has been easy and it has not been easy.  None of that matters.  All I wish to convey is regardless of your background and limitations, you are capable of actualizing your purpose and manifesting a life loaded with fulfillment and personal happiness.  All it takes is your desire to do so. From there, your possibilities are limitless.
evolve through love,
sev