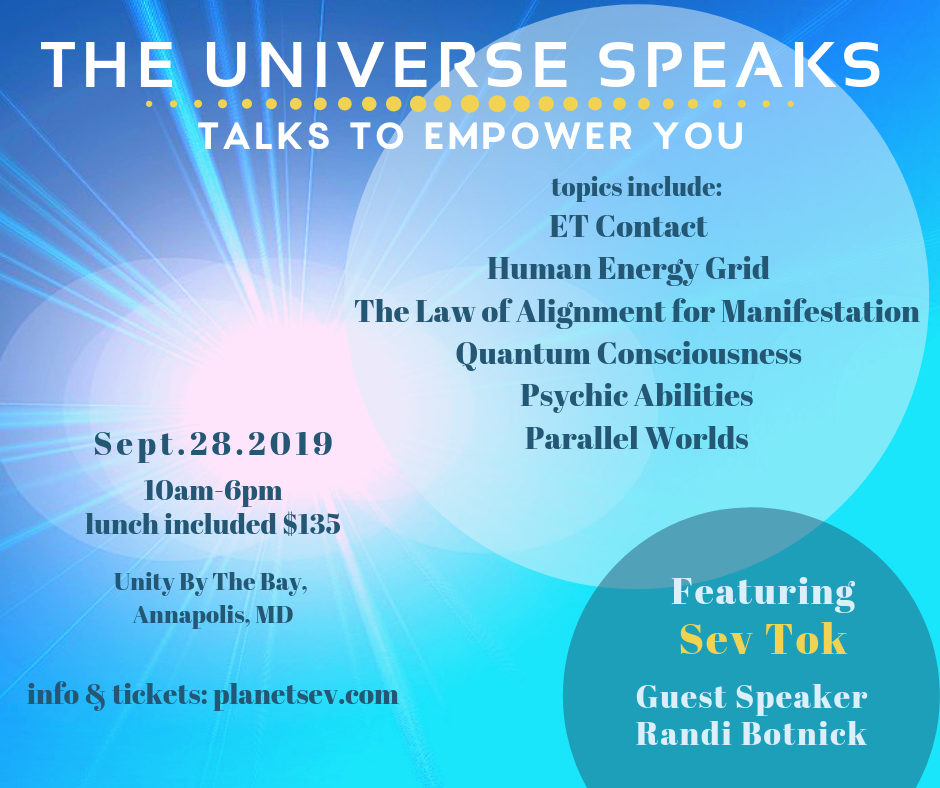 THE UNIVERSE SPEAKS: Talks to Empower You
Sept. 28, 2019, Saturday
10am-6pm
lunch included, $135
Featuring: Sev Tok
Internationally Recognized Author, Speaker, Spiritual Counselor & Experiencer
Guest Speaker: Randi Botnick
Award Winning Author, Speaker, Spiritual Counselor & Energy Healer
Where: Unity By The Bay Spiritual Center
4 Pointless Forest Trail
Annapolis, MD 21409
unitybythebay.org
To purchase tickets:
(tickets are not available at the door and are refundable up to 14 days before the event)
Sev Tok shares her metaphysical and spiritual knowledge gained through a decade of Spiritual Counseling, her journey of spiritual ascension activated by ET Contact, and a life-time of investigative work in the field of quantum consciousness.
Sev's book, You Have The Right To Talk To Aliens, about her ET Contact has received the attention of prominent UFO/ET researchers from around the world. She has been interviewed on many radio shows in the US, Canada, and the United Kingdom. Sev was invited to be a Guest Speaker at AlienCon, sponsored by Ancient Aliens TV Show, in Baltimore MD in 2018.
As a Spiritual Counselor, Sev has conducted thousands of Soul Sessions guiding her clients in fulfilling their life purpose, overcoming mind blocks, manifesting, creating healthy relationships, attaining career goals, and developing a powerful version of themselves.
Sev's Guest Speaker is Randi Botnick whose book, 4th Dimensional Healing: A Guidebook for a New Paradigm of Healing, won the silver medal in the 2016 Living Now Book Awards. For 20 years, Randi has worked with clients helping them find relief from anxiety, depression, fears, addiction, and self-esteem issues. As an Energy Healer and Spiritual Counselor, Randi writes, teaches, and speaks about inter-dimensional healing, the human energy grid, and the realities of being a multi-dimensional human.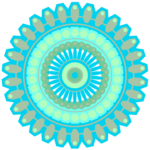 3 one-hour talks by Sev:
The Power of Authenticity in Creating Your Life
*Sev's ET Contact
*Understanding your powerful Energetic Matrix
*Activating your Authenticity to transform your reality
*Using The Law of Alignment for manifestation
Your Para-Normal Abilities in a Quantum World
*Your multi-dimensional connection to the Quantum World
*Traveling to Parallel Worlds
*Communicating with Other-Worldly Beings
*Enhancing your Para-normal abilities – ESP, telepathy, astral travel, etc.
Ask Sev
An open-floor forum to ask your questions
A one-hour talk by Randi:
Understanding the Human Energy Grid
*The relationship between health and your Energetic Body
*Acquiring inter-dimensional awareness
*How to re-balance your Energy Field
Interact with Sev and Randi as they sign their books available for purchase.
Enjoy a catered lunch from Chef-owned Blooming Deli in Federal Hill with vegetarian options.
Walk a labyrinth on the beautiful, tree-filled grounds of Unity By The Bay Spiritual Center. There is plenty of free parking and the venue is conveniently located between Baltimore MD and Washington DC.
The Event is 15 minutes from historic Annapolis. Spend a day strolling the charming streets our Founding Fathers walked. Tour the Naval Academy or historically-preserved homes, enjoy excellent restaurants by the water, shop in quaint boutiques. Go an a water excursion or walking tour: Annapolis Tours
There are many hotels to choose from, here are a few:
Hotel Annapolis, Annapolis Waterfront Hotel, Historic Inns of Annapolis, Hampton Inn & Suites, Double Tree By Hilton.
Do you have questions?
Please send them to planetsev@gmail.com


The Universe talks to you.
Are you listening?
Learn how to hear its messages.
Sev & Randi are excited to spend this special day with you. We hope to see you there.
To purchase tickets:
(tickets are not available at the door and are refundable up to 14 days before the event)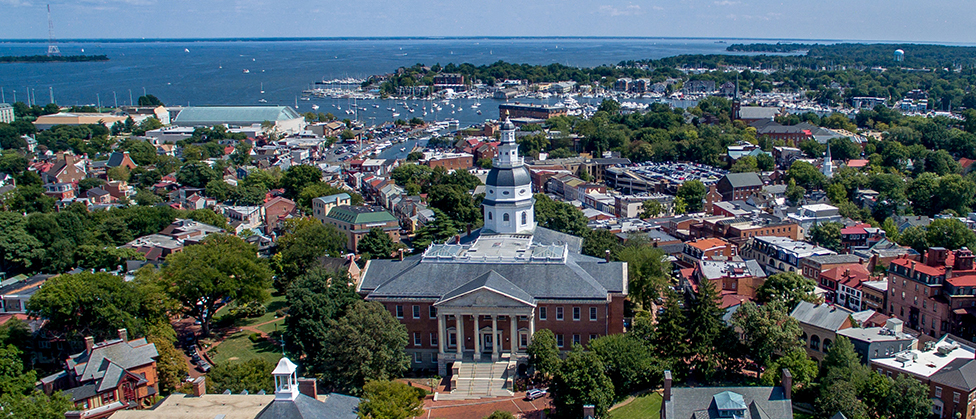 Historic Annapolis, MD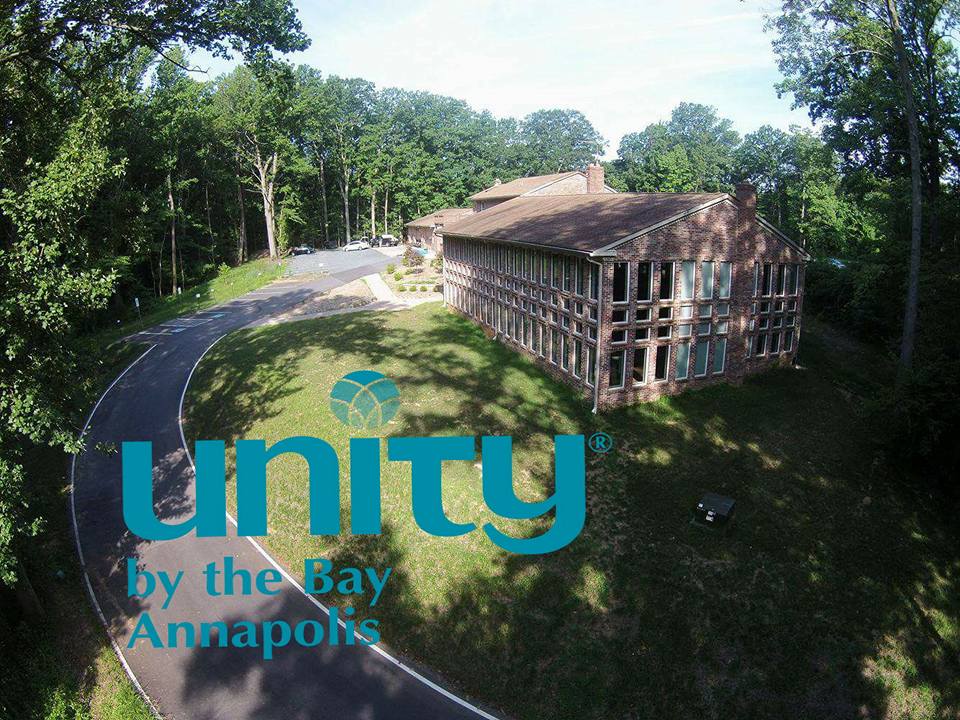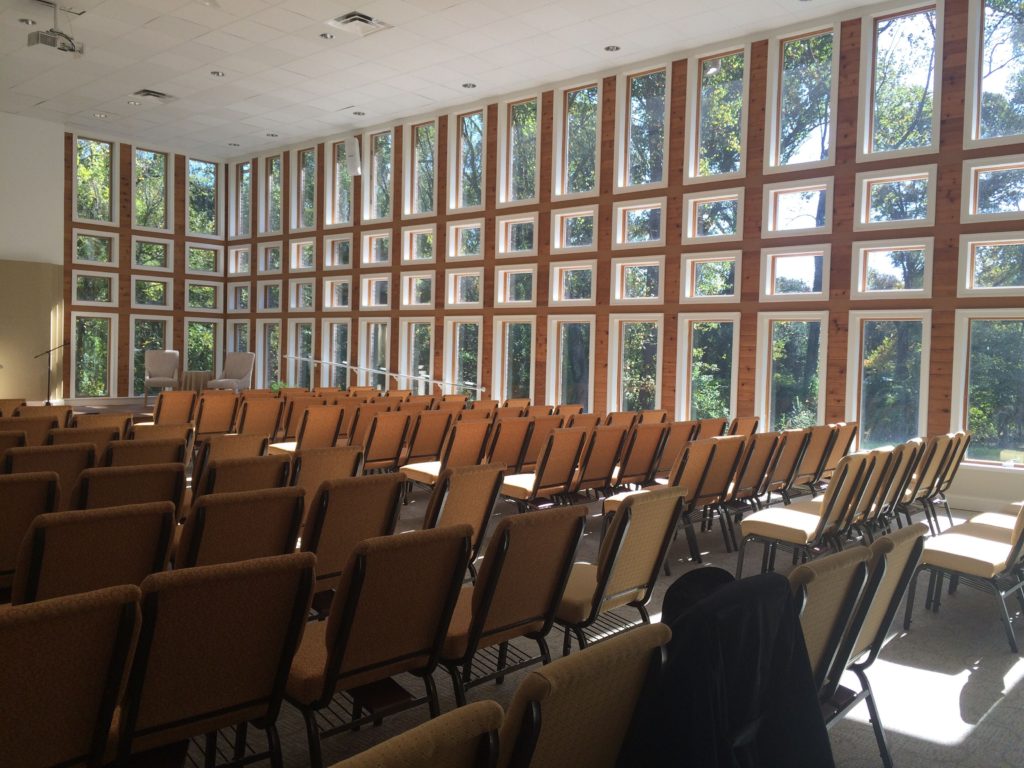 Unity By The Bay